Matt Waldock, City Church Manchester
Matt met Jacky while they were both studying in the performance arts faculty at Lancaster University. They were married a year after graduating and now have a 10 year old son, Reuben. Matt, was fortunate to be brought up by Christian parents but it wasn't until he was fourteen on a summer camp, that the truth of the Gospel became startlingly apparent and he made a commitment to follow Jesus with the whole of his life. Matt worked as a secondary school teacher on the Wirral, before becoming the UCCF Staff worker for Merseyside and Chester, he was then involved in developing leaders in Africa with the charity Emerging Leaders. In 2012 Matt was appointed as an Assistant Pastor at Christ Church Liverpool and Jacky completed her PhD and continued her work as Soundscape Composer. For Matt and Jacky the opportunity to help meet the Gospel need in Manchester was too great to ignore and it was a brilliant chance to share the gospel within a city that is quickly becoming a bustling cultural and creative hub.
Matt said: "Jacky and I have for a long while worked closely with those who live and work within the city centre networks. These communities daily rub alongside the big questions of life and it is a privilege to be amongst them to point them to Christ as we build His Church."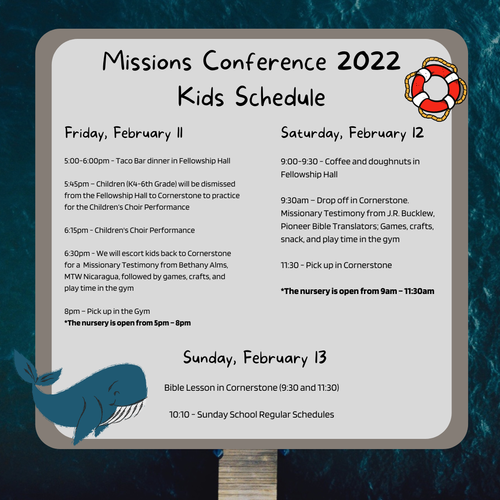 Take time to read through our World Missions Conference Brochure. This brochure gives a detailed overview of the conference and the mission partners we support.
Missions Conference Dinner
Please come join us Friday, February 11th, 2022 for a time of Food and Fellowship to celebrate world missions. Dinner will be served from 5:00-6:00p.m. Enjoy a FREE Taco Bar Meal from Margaritas Mercer Village. Kindly RSVP on Realm!
Men's Missions Fellowship Dinner
In lieu of our monthly Second Saturday Men's Breakfast in February, we will have a Men's Fellowship dinner with our Missions Conference speaker, UK church planter and pastor Matt Waldock. The dinner will be Saturday evening, February 12, from 6:00-7:30pm at the home of Chuck and Ellen Duggan.

Please register and pay (cost is $5 per person) on Realm for yourself and any guests so that we can ensure there is enough food.


Learn more about Giving to Missions here!